If you are a previous customer, please give us a review, otherwise new and potential customers, please check us out on YELP!
http://www.yelp.com/biz/curtis-custom-planters-la-mirada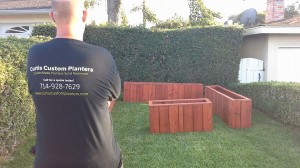 Contact us today to get started on an order for you.
There is a discount for multiple orders and a very reasonable fee for delivery.
Call, text, or email today and get a quote for your project and let's start building a garden! Please mention your name and city you want the planters delivered to, I like to keep track of the quote.
Thank you!
Robert Curtis
714-928-7629 – Call or text anytime, day or night.
Curtis Custom Planters
http://www.curtiscustomplanters.com/
https://www.facebook.com/CurtisCustomPlanters
http://www.yelp.com/biz/curtis-custom-planters-la-mirada